Hey all you lunch packing, back-to-school Betties! August's Giveaway is a set of 4 lunch containers that are BPA-Free and easy for little hands to open (giveaway does not include lunchbox)! Gone are the days of lunch baggies! Plus 4 different colored lids make it easy to customize lunches (perhaps one child has a food allergy); no mixing up the lunches and they stack nicely in the fridge. Make them the night before and get up and go the next morning! These fit nicely into a standard lunch box and the kids haven't tossed them yet! Keeps food separated too.
Made in the USA by a MOM!
Sturdy
Kid-Friendly lids-designed for easy open
Not leakproof. Not for liquids
Dishwasher, microwave, freezer, and fridge safe
Made of non-toxic, food safe polypropylene (PP).
BPA, PVC & phthalate free. FDA-approved.
TO WIN: FOLLOW our blog and leave a comment below, how do you follow us? Try this.


Follow blogs
Following a blog shows authors and readers of the blog that you're a fan, and you can keep track of the blogs you follow via your Reading List on the Blogger dashboard. Following a blog will also create a subscription to the blog in your Google Reader account.
How do I follow blogs?
There are several ways to follow a blog. One of the easiest ways is to visit a blog that has added the Following widget and click on the "Join this site" button under the "Followers" widget: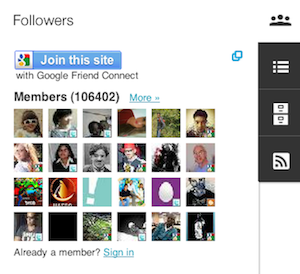 After you sign in with your Google Account (or another account if you so choose), you'll then see a popup window with the options to either follow publicly or privately.
Select how you'd like to follow the blog, then click the "Follow this blog" button. If you elected to follow the blog publicly, your profile picture will be displayed on the blog with a link to your Blogger profile or Google+ profile (if you've opted to link your blog to your Google+ profile). When you become a follower of a blog, the blog will also be added to your Reading List on your Blogger dashboard. You can become a follower of any blog or URL (even if the blog doesn't have the Followers widget) by adding the blog to your Reading List on the dashboard.
Drawing will be held Wednesday, August 29-Good Luck!